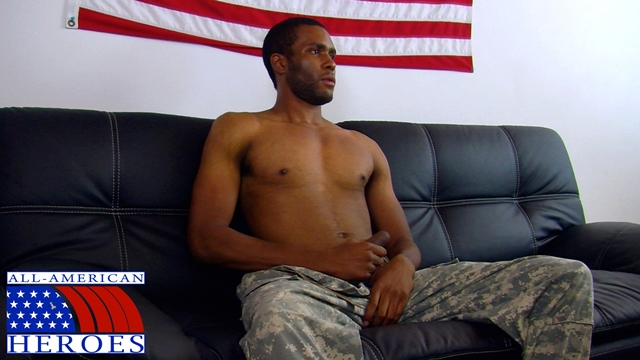 All American Heroes says: US Marine Private Robert involved himself with overseeing medical supplies to our front line troops in war ravaged regions around the globe.
He just loved the camaraderie of his fellow fighting men and the bonds of brotherhood that develop at the sharp end of conflicts in one of the toughest branches of the military. Despite the tough conditions it made him a man, he says, and he admits he loved every bit of it. Except that is the morning role call at 4 a.m. each and every day.
Robert is a tall and lean fit soldier, with cool black skin. Keen to get started he is already shirtless, there is no messing about with this guy, he is all action and orders. Soon enough he has his cock out of his camos and is rubbing is sweetly no need to be given his further instructions.
His long black uncut dick looks magnificent against his camouflage pants, he strokes it gently and with a lot of attention. It's my baby, he whispers. Stretching out, he fills the couch with his big masculine frame and is clearly ready to rub one out.
After a time he is comfortable with the cameras and he drops his camouflage pants all the way down to his combat boots. Private Robert is a very sexy hulk of a man, big in all the right places, you can see how the military has made its mark on his well defined body. Dropping to his knees, Robert shows off his perfectly round ass.
With his fingers he pulls his ass cheeks wide open, giving a tantalizing glimpse of his dark straight man hole. As he works himself up, a change appears and he is clearly ready to blow. He starts to jerk his swollen cock furiously until a steady stream of beautifully thick white cum globules bounce out onto his abs, creating a perfect contrast to his cool black skin.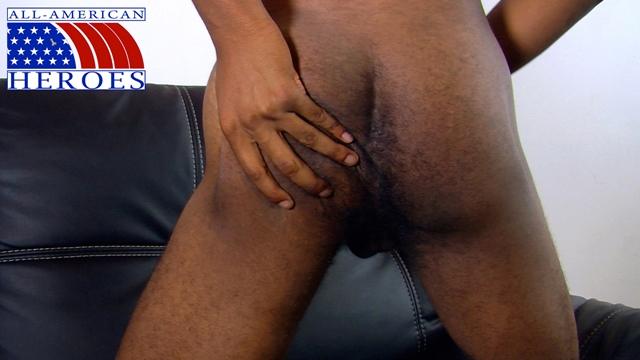 Republished by Blog Post Promoter