Dirty Tony says: Nature lover Eddy Adams is truly something special. This handsome young man came all the way from the Rockies to take a spin on my famous casting couch. Eddy is an outdoor (and in the bedroom) adventure seeker, an accomplished rock climber, loves to have sex in public and loves to show off his rocking body. He has rugged good looks, a strong Roman nose, a six pack you could do laundry on, and an infectious smile.
He also has one more HUGE asset, a 9×8 inch uncut cock prowling in his jeans. I couldn't believe it until I saw it for myself! Now, I've seen a lot of dicks before but Eddy's was truly a marvel to behold. Eddy has been told for years that with his gift he should be fucking on camera. Looking for his next big thrill, Eddy came knocking on my door finally ready to show the world his talents. The more I talk with Eddy the more I like him, we have a few things in common like exhibitionism, big dicks and always being horny. Get this video at Dirty Tony!
Eddie's problem is that he has always wanted to fuck someone in the ass, but because of his monster cock, he had never found the right girl who could take it. I'm pretty sure I can find the right man for that job. Eddy whips his clothes off as soon as I gave him the green light. His sexy body is bursting at the seams with taut sinewy muscles underneath his darkly tanned skin. His dick keeps growing and growing as he brings him monster to life. His cock is so large, he has to jerk it off with two hands!
Eddy works his magic and tames the beast keeping it under his watchful eye the whole time until he is ready to bust. With a warrior's cry Eddy spews gravity defying ropes four inches straight into the air. His white pearly cum rockets forth and lands on his tight six pack, the rest of his load cascades down his hands and into Eddy's thick bush. Wow, I'm really looking forward to see which one of the studs in my stable is willing to take on this most impressive challenge.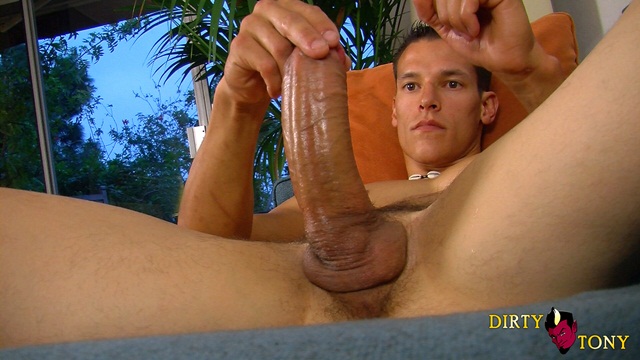 *