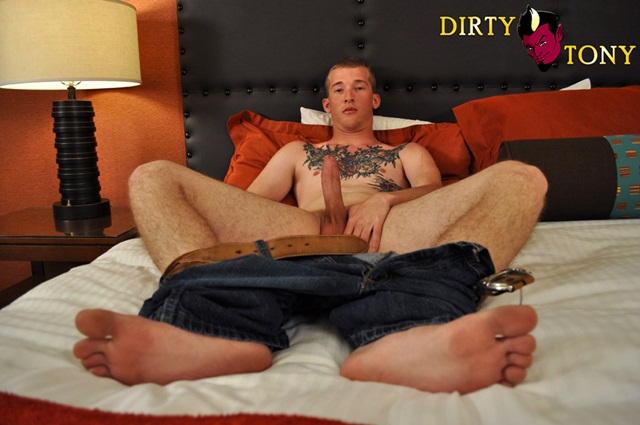 Dirty Tony says: On a recent trip to Arizona, a special treat joined me in my hotel room. Blonde haired, blue eyed Jasper James is here and I get to know a little more about his sexual life. I learn that he is really into oral sex, even when he is watching porn. He tells me about how his girlfriend liked to play with his ass and even finger him. Jasper is always looking for new things to try and is a pretty good sport when it comes to exploring different sex acts. Now there is no more time for jibber jabber, so Jasper climbs up onto the bed and unbuckles his belt. He starts tracing the outline of his growing penis through his jeans and massaging his shaft. In no time at all, this stud already has a rock hard erection and pulls it out from underneath his jeans. Jasper starts stroking his shaft and his balls bounce up and down with each rhythmic stroke. Finally, he rips off his t-shirt to reveal a beautiful chest piece tattoo and perfect sized pink nipples.
Next, he spreads his legs open a bit and jams his middle finger right up his tight delicate man hole! Jasper gets down on all fours and continues to press his finger into his ass, pounding it against his wet prostate. He lays back now into a more comfortable position and continues stroking his yummy thick man iron. I just love how his big balls are so damn bouncy, it drives me nuts! I decide to ask if he wants a little help and he doesn't seem to mind. I grasp his cock with one hand and jerk it up and down for him while in my other hand I lightly caress his taint.
As my finger edges toward his puckered hole, his legs instinctively move apart; allowing access to the treasure below. Taking it a little further, I gently enter his anal cavity with my finger. He seems to like it, so I have no problem helping out this sexy guy. He pounds at his boner intensely and I sense him getting closer to completion. His asshole clenches around my finger, almost as if he intends for it to stay there forever! Jasper then drops his cock, hinting that I should pick it back up.
I take his rod into my hand and stroke hard and fast. Not long after, his breathing increases and his ball-sack constricts. Suddenly he explodes several thick pearly white loads up his chest and down his stomach. Ya done good, kid!
*