Dirty Tony says: The charming Miles Brandford is on my couch today and I get to talk with him for a bit. I learn what kinds of things turn him on and some of his favorite sexual positions. He loves eye contact, being very vocal, and is a big oral lover. Miles shares a story about a crazy three way he had once and even though they werent the most attractive bunch, he still had a great time.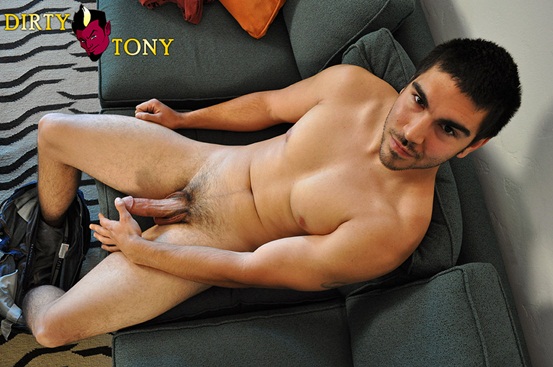 He isn't completely close minded to the thought of being with another guy, but you can tell there is definitely some curiosity going on. I get all that I wanted to know out of him for the time being so now it is time for Miles to get down and dirty. Sexy Miles sits back and starts pushing on his growing bulge through his jeans. He rubs down his shaft to his ball area and down his taint region. Miles then peels off his shirt to reveal a muscular toned body. He grasps onto his hardened man rod and strokes it a little before ripping off his jeans.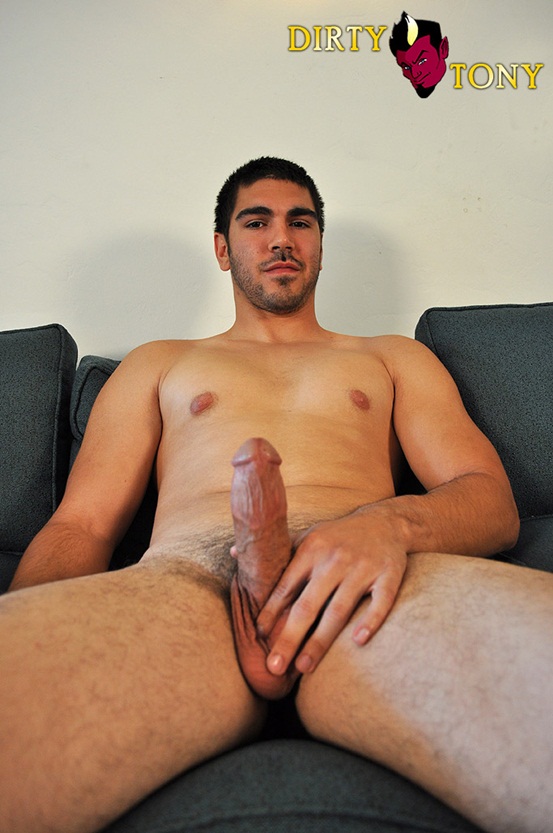 He massages the length of his penis and flexes his balls. They jump up and down inside his sack displaying just how exciting this stud really is. Miles gives his cock some lube by spitting on his hand rubbing it down his shaft. He then gets up and kneels down on my coffee table while continuing to stroke his cock in rhythmic motion. Now we get to see the rest of Miles' goodies. He rubs on his hairy bubble ass cheeks and glides his fingers up and down his crack.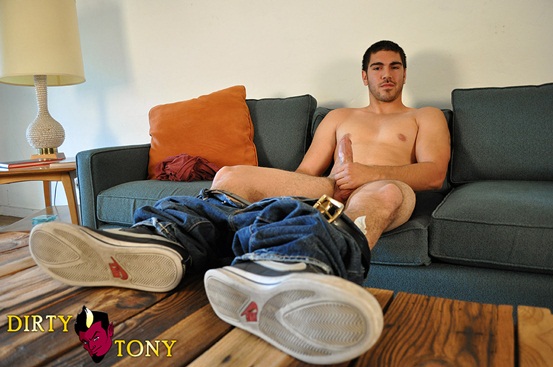 Miles grabs a handful of ass meat and speads his cheek wide open, allowing me to peek at his forbidden fruit. He's getting more comfortable and lays down on my couch while he plays with his low hanging balls and swollen cock. He pulls on his sack's skin and traces his taint trail to his hole and back. Miles breathes heavier and heavier as he jacks his meat wad.
With a few more hard strokes, he gushes up three huge thick gleaming streams of cum which shoot up unto his stomach and slowly drip down into his pubic haven. Miles Brandford you sure have branded an impression into me. Get this video at Dirty Tony!
*