Dirty Tony says: Joey Rico is a sexy tattooed latino from San Diego. He was the kind of guy who was popular with the girls in high school. But he's been popular with the guys since he got out.
Although he's mostly a straight guy, this lean muscular latin drink-of-water is horny and ready to make some gay porn. He's been told that he looks "bootylicious".
And I have to say, this kid's ass is amazing! Everything on him is awesome face, body, and cock. He unbuckles the tight jeans and a hard-on is visible beneath the taut cotton of his boxer briefs.
He slips his pants down and the dark and veiny, uncut wonder is revealed. When he pushes his pants down further, a thick black bush pops out above his stiff cock.
He continues stroking, like he's switching gears in a tractor trailer. He caresses himself, sliding his hand up the ripples of his stomach to the perfect curves of his pecs, onto the tattoos of his upper chest.
Occasionally, he uses his right hand to brush against his brown balls. As he rolls onto his side, he moistens his index finger, preparing it for the plunge it's about to take.
The finger dives into the crack between two perfectly round ass cheeks and massages the happy prostate within. Laying on his back across my coffee table, he continues to manhandle himself.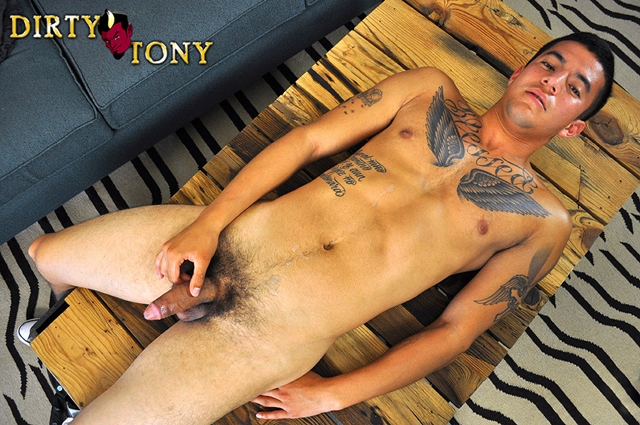 Finally he explodes white jam onto his rippling stomach, squirting multiple times into a trail of jizz.