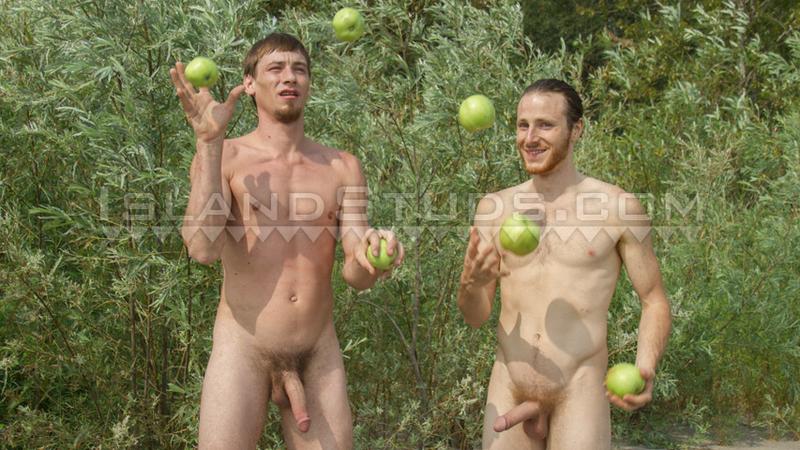 Hottie bisexual redhead Riley Rodriguez's and best friend Island Studs Eros jerk their big dicks together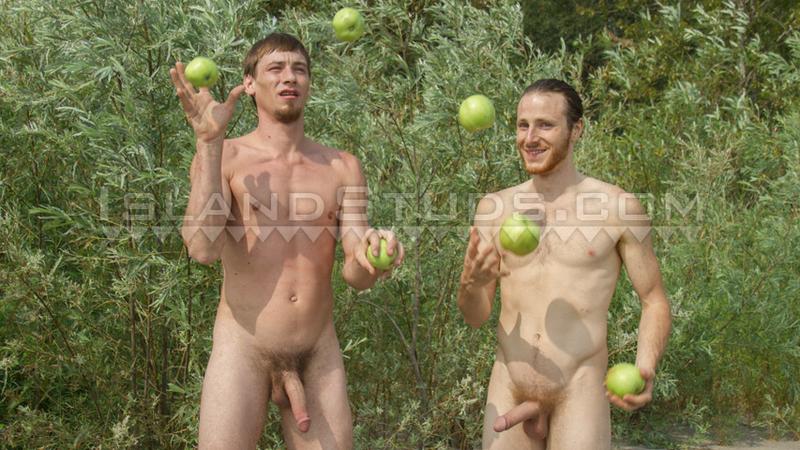 Island Studs says: Bisexual redhead Riley Rodriguez is back, showing off his rock-hard uncut Puerto Rican Italian cock surrounded by a full bush of ginger pubes with nervous newcomer, tall, long dong, horny Eros, exposing their sexy naked bodies for the very first time on camera together.
See their hardcore stroking as the newest members of our Naked Frisbee Team in "Frisbee Nude #5".
Riley and Eros are both seen posing, flexing, pissing, juggling and hugging each other in their sexy jockstraps and then fully nude with boners out in public beside a Mountain River.
They jump and sweat as they playfully joke around with each other tossing the orange disk, balls out before they take a break to comb out their thick man bushes sitting side by side in the sand stroking their cocks together.
The sexy young men wrap their arms about their naked bodies with Hawaiian floral Leis on their huge dicks poking out of grass hula skirts before they both take a powerful duo piss on the beach together.
These two handsome jocks agreed to meet us in the forest beside the wide Oregon River for their very first nude photoshoot with another guy.
Watch as these two Oregon thespians enjoy showing off their contrasting ripped bodies: Eros, 28, a tall 6′ and lanky 175lbs with a smooth tight tan body, dark brown armpit hair, and a full man bush covering his long cut dong and ball sack.
And Red Riley, 27, 5'8″, a slight 140 lbs with light ginger hair covering his perky pink nipples and his mouthwatering uncut Puerto Rican cock surrounded by a full bush of manly ginger dick hair and a creamy white Juggler's butt.